Michelle Hungerford - Evening En Plein Air Painting
Thursday 8 April 5:00pm-7:30pm
In conjunction with Tamworth Regional Astronomy Science Centre (TRASC), join leading regional artist in a painting workshop that celebrates our beautiful night sky
En Plein air painting is about experiencing painting and drawing whilst in the landscape. The practice goes back for centuries but was truly made into an art form by the French Impressionists. This workshop is focussed on looking at our night sky, and the effects of evening light on the colours of our landscape.
This evening in class will be led by Michelle Hungerford. Michelle lives and works in Tamworth NSW, Australia, as a full-time working artist who is predominately a painter of the landscape. Michelle Hungerford has enjoyed many successful exhibitions in both commercial and public galleries across Australia and internationally.
Workshop price of $65 includes 2.5 hour workshop, an opportunity to view the TRASC telescopes, as well as a pack of quality art materials from local art suppler Gallery 126 Armidale.

This includes;
12 x A3 Acrylic Paint Paper 400gsm
6 x CHROMA A2 250ML Paints : Cadmium Yellow , Cerulean Blue, Alizarin Crimson, Ivory black, Burnt Umber, Titanium White
1 x ATELIER 1/80 Prussian Blue
A selection of paint brushes of various sizes
2 x 6mm medium size Charcoal pieces
1 x Fine Art Graphite Pencil 2B
1 x A3 Cartridge Paper 110gsm
A night light and easel will be provided as part of this event.
We ask participants to wear clothes for cold weather, long sleeves, and trousers, and sturdy shoes.
Bring along your own chair and additional brushes and art supplies if you wish.
In event of poor weather the event will be postoned, we will advise all participants via text message if cancellation occurs.
This event is supported by the Tamworth Regional Astronomy Science Centre (TRASC). TRASC, in conjunction with Tamworth Regional Council, is developing the Tamworth Regional Astronomy and Science Centre to show you the wonders of our amazing universe. The centre will be open during the workshop and partipants are welcome to explore the new astronomy centre as part of this event.
This will be the first series of a series of creative arts programs called Sky Canvas: Telling our stories of the Sky, Land and People which will be held at the Tamworth Regional Astronomy and Science Centre. The events are made possible by funding from The Australian Government's Regional Arts Fund, provided through Regional Arts Australia and administrated by Regional Arts NSW.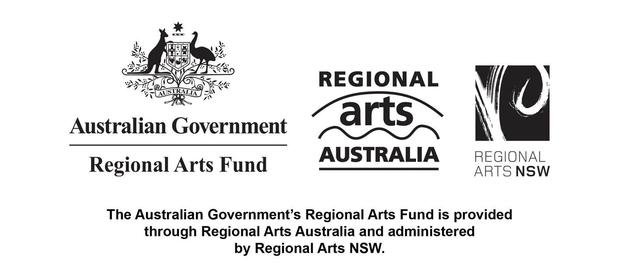 Bookings now open. Numbers limited.
Art materials, easel included in workshop price.
BYO Chair. Please wear sensible foot wear and warm clothes.
Additional enquiries.
Please contact Education Officer Emma Stilts at Tamworth Regional Gallery on 6767 5230, e.stilts@tamworth.nsw.gov.au .
Register
$65.00
Tamworth Regional Gallery
466 Peel Street Tamworth
08 April 2021
05:00 PM - 07:30 PM