REGIONAL ARTISTS COLLECTION
"Works by regional artists, including paintings, photographs, works on paper, ceramics and sculpture" Tamworth Regional Gallery Collection Policy
Tamworth Regional Gallery continues to support, mentor, advocate for and collect from artists who are connected to the Tamworth region. Regional artists include many First Nations artists who have a connection to Kamilaroi/Gomeroi Country.
These include artists that live and work within the region, artists that grew up within the region, and artists that respond to the region. The region is defined as Tamworth and the surrounding area within a 200km radius.
Many of these regional artists respond to their own environments. The beauty of Tamworth's natural forms and the surrounding landscape is often captured in this collection. Tamworth Regional Gallery has been collecting regional landscapes and artworks that respond to the local environment for over 100 years, since its inception by founder John Salvana.
Artworks can also respond thematically to Tamworth, such as through the theme of country music, or to Tamworth as the first city in the southern hemisphere to install electric street lighting. Many of these artworks have been, and are acquired through, the fundraising and generosity of the Friends of Tamworth Regional Gallery. Artworks are exhibited at the Tamworth Regional Gallery on a regular basis, and also throughout our Local Government Area - especially at the Tamworth Regional Referral Hospital.
This ongoing support for Tamworth's regional artists makes this is a growing section of the Tamworth Regional Gallery's visual arts collection.
Key Works
Sybil Orr
Sandstone, 1976
Embroidered wool, linen, cotton, leather and wood
Each part: 915mm x 915mm, Frame: 980mm x 980mm
Gift of the Tamworth Art and Craft Society​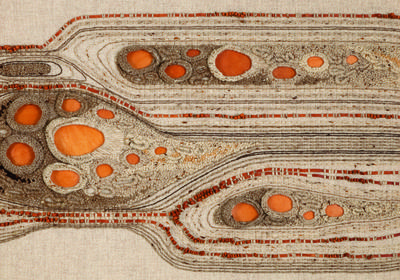 Jean Isherwood
And Fire,
Oil painting
840mm x 1070mm
Purchased by the Tamworth Art and Gallery Association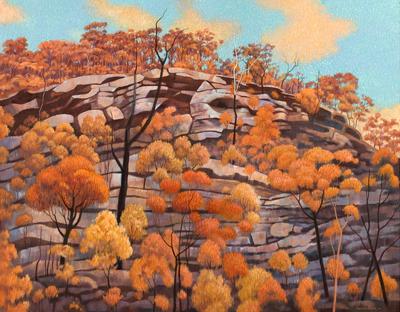 Gabrielle Collins
Landscape XV, 2007
Oil on canvas
350mm x 350mm
Purchased by the Friends of Tamworth Regional ​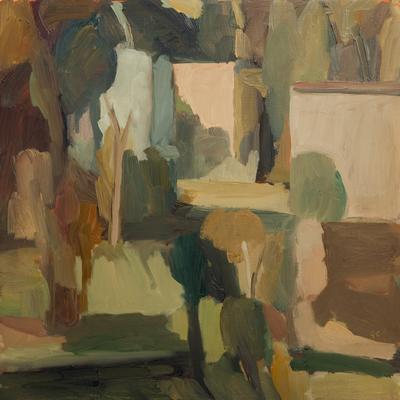 Amy Hammond
Crown Bugalaa, 2021
Lomandra, lomandra seeds, wattle seeds, possum skins, local parrot feathers, banksia flower, echidna quills
410mm (h) x 200mm (d)
Amy Hammond Gamilaroi Yinarr Support Weavers: Sophie Honess Gomeroi Yinarr and Lorrelle Munro Gomeroi Yinarr